Patricia Erhart: My goal is to earn a living for at least one year out of my speedway racing (interview)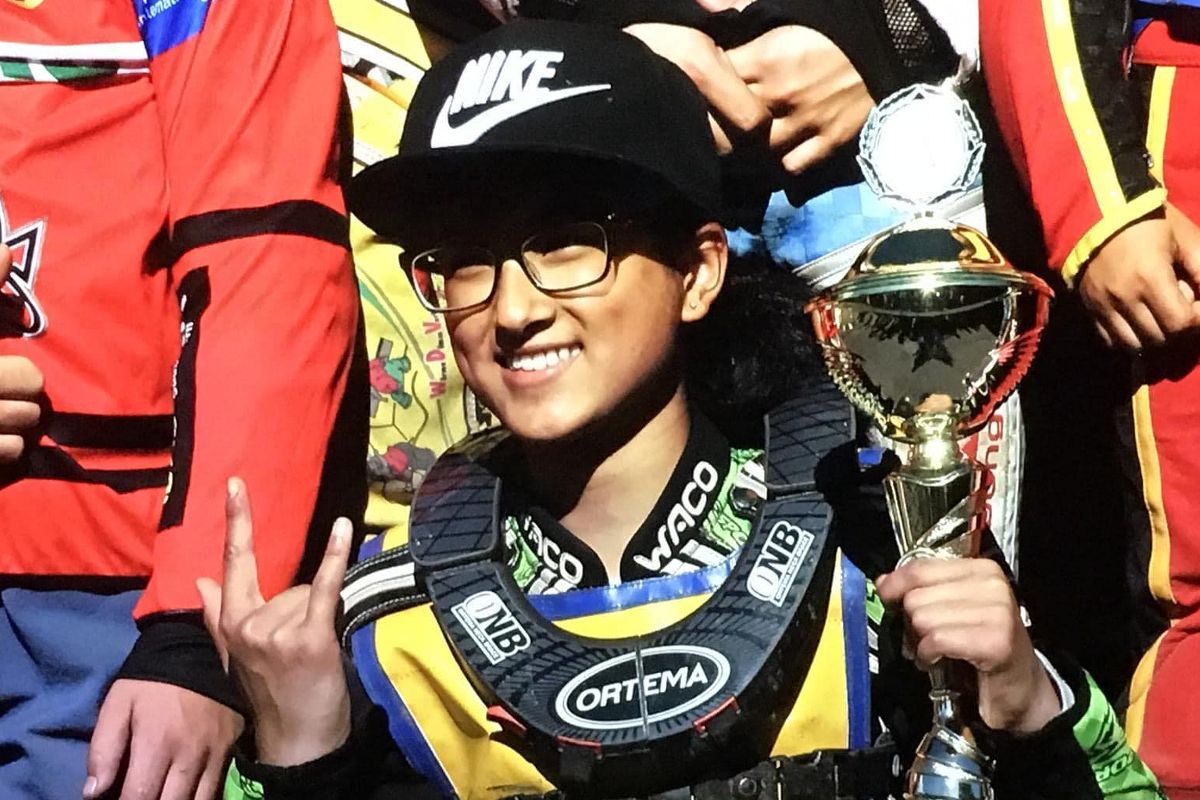 Germany is probably the country with the biggest amount of female speedway riders. 17-year-old Patricia Erhart is following in the footsteps of her older friends, such as Celina Liebmann.
Konrad Cinkowski (twojportalzuzlowy.pl): You're not a well-known rider. Before we start, please tell us something about you.
Patricia Erhart: I'm a 17-year-old girl from Bavaria, who is into almost everything that involves adrenaline and fun. For example, I like Freestyle Skiing, Skydiving and that sort of things.
– How did you fall in love with speedway?
– I guess it kind of just happened. You know, as a kid, my father singed me up for a kids training, I think I was 5 or 6 years old, and since then I ride motorcycles. When I was 12 years old I drove a 125ccm machine for the first time.
– Why did you decide to try speedway?
– As I mentioned above, my dad took me to the track in Olching (Bavaria), and I remember that I stood behind the fence, watching all the other kids driving around cones and over a whip. It seemed that they were having a lot of fun, so… I thought to myself: why not?
– How did your family react to your decision, and was it tough to convince your parents?
– Well… they encouraged me to do so. You could say they wanted me to be a speedway rider. They always had my back and supported me. But I think all moms worry about their children when they watch their baby's drive.
– To be honest, we don't know a lot about you. Can you present some of your successes?
– I don't have any titles to brag about, but I can say that in 125cc class I mostly finished just behind top 6. In 250cc class there weren't many races. I think I have only competed in 5-6 races since I moved up to that category, which happened exactly two seasons ago, due to COVID. Most of those meetings this season are yet to come.
– For sure, you have some goals. Can you share them with us?
– My goal is to earn a living for at least one year out of my speedway racing. I want to be one of the best someday, and win minimum one round of Speedway Grand Prix.
– Do you feel less feminine when you're practising typical "men sport"?
– Definitely not. And I think speedway or any kind of sport is not a "typical men sport". For me this is an old-school mentality because in every so called "men sports" there are plenty of women who compete every year. Therefore it is a sport for everyone.
– How are women who racing on speedway treated in Germany?
– I don't see any difference compared to men. We get the same chances as the boys. We don't get favoured as well. The job is the same for everyone: bring home 3 points. Just because you're a girl doesn't mean it will be easier or harder to compete.
– What do you think about the level of female speedway in Germany? It seems to be quite good, as we can see in the results of your rivals.
– It's quite good, yeah. You know, we don't go easy on the boys.
– Celina Liebmann is the best woman speedway rider at the moment?
– I wouldn't agree with that. I think that in every speedway country there are girls who are quite good at what they do, and not just in 500cc, but also in 50cc, 80cc, 125cc and 250cc. They just didn't get the chance to show what they've got at the moment, so that is my answer – no.
– I think, that women's don't have many opportunities to show what they can do in speedway. What can be done to change that?
– For me personally – nothing. The racing technique has changed much in the last few years and it is not all about muscles anymore. It's much more about balance, and having the right strategy. The setups need to be perfect, the material must be good and durable. Of course you need to be fit and still have to do loads of workouts.
– How do you see the future of women speedway?
– Actually, I haven't got a slightest idea. Since speedway began, more and more women are participating and I think we can expect a lot in the future.