Former ice speedway rider from Poland: Success was close, but Igor will be the champion of the world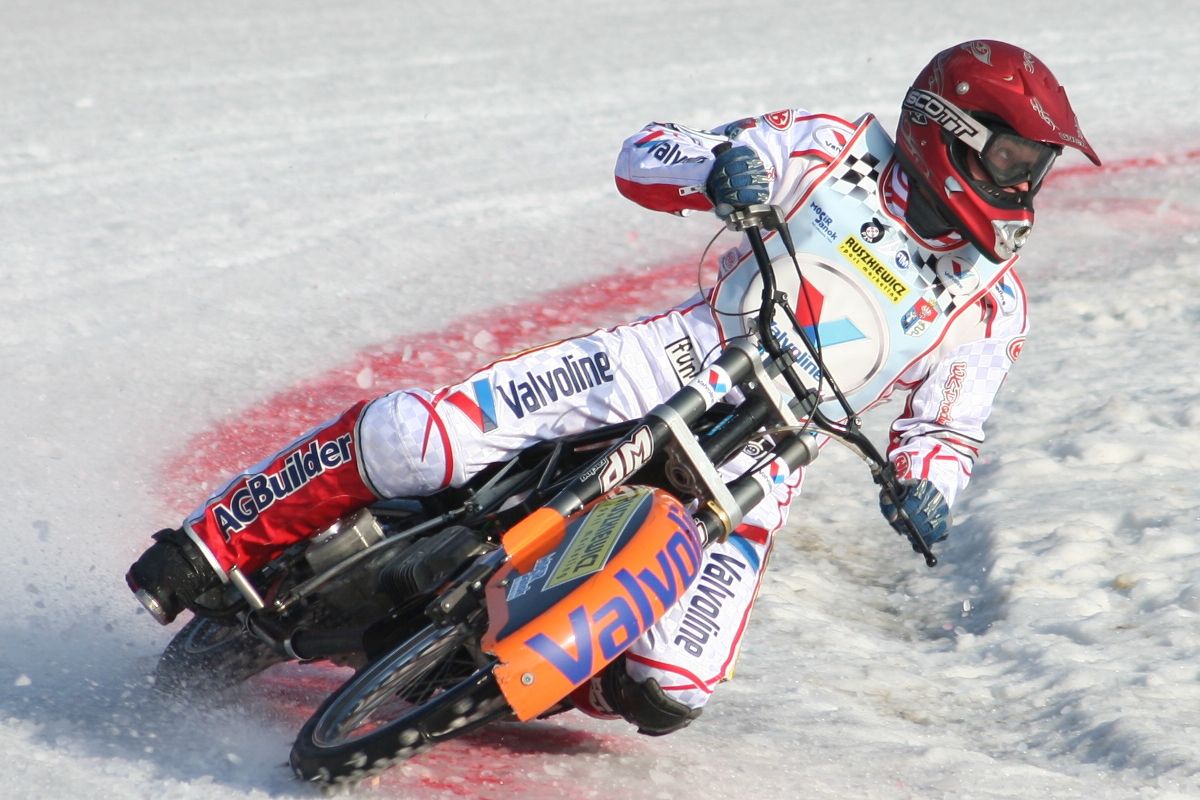 Ice speedway in Poland had its ups and downs. Unfortunately there were more negative moments. Currently more and more is done in order to build a track for ice speedway gladiators in Poland.
During last couple of years, there were many Polish gladiators in ice racing. One of them was Michał Widera, who has participated in World and European championships. He didn't end up with many successes, but definitely he did leave his mark on this sport.
He was our guest in Podcast – "Gość TPŻ". Former racer and current manager of the 7R Stolaro Stal Rzeszów team (second Polish League – third tier) has talked about ice speedway.
– During the last world championship you were cheering on Igor Konowov, who has lost a gold medal on the last corner of the final heat. Did you already calm down after that moment?
– I was coming back from Bieszczady mountains. I went through Sanok and around 20 kilometres from there I was watching that final in Togliatti in the winter scenery. When the extra heat was on I have stopped on the bus stop to calm down, just in case. For me, Igor is the world champion. We need to look at the tragedy that he has experienced, his injury and what did he go through. He will be a world champion, he is very determined. I wish him well. We have a great relationship with Igor for couple of years now. He even was spending some time in my home. Success was very close, because he has lost by just half of a spike – due to cool attack. I think it happened due to error on the last corner or too narrow entry on the bend. Igor is very strong mentally and I admire his determination. He had a horrible injury and he did lose his father in the accident. Many people wouldn't be able to come back from such a tragedy.
One time he has visited my place when he was heading to Berlin for a classic speedway meeting. Compare him to nowadays young riders. 17 or 18-year olds, glasses on the nose, gel in their hair and three mechanics jumping all around them. And then there is Igor – third rider in the world was going to Berlin without a mechanic. When I have pointed it out he replied – "Why do I need the mechanic?". I offered my services. He repeated that he doesn't need one, but I can jump in, if I want to. He was driving to Berlin and back even though I have offered that I can take the wheel after the meeting. Just imagine – this kind of determination and mentality in a speedway rider. Our guys often miss this virtues.
– You have talked about the young riders. They are travelling with luxurious vans – with TVs, fridges, beds. I remember that one time Igor was bragging with his yellow Porsche and a trailer attached to it.
– Yes, it was precisely that meeting in Berlin. Maybe he didn't let me drive due to the fact that it was a Porsche (laughter). I have seen some pictures on Facebook where he was driving the Zigula (Lada 2101) or other vehicles to the training sessions. He is a practical guy – he is not so much focused on the aesthetics, but definitely on functionality. I hope he didn't say his last word in ice speedway. In classical speedway there is too much competition and not so much opportunities to compete, although he still appears in the Russian league.
– You were competing in ice speedway for many years. Are you sometimes tempted to come back on track?
– I am tempted for couple of years now. The engine is prepared by our mechanic from Świętochłowice – Szymon. Every year there is a temptation to jump on the motorcycle. Not so long ago I was training on the frozen lake on the vehicle of Grzegorz Knapp. I have later given it to Michał Knapp. I have my own motorcycle, but mostly for educational reasons. I am trying to remain in shape. Other riders are watching my trainings. I had to make some major investments though. Last year's weather didn't make it easy to train, so I had to take off the race jacket for now. I am 44 years old though, so I am not too old for an ice racer. I am not so much tempted to be honest though. Maybe if I could count on the well-organized and determined team, my motivation would be higher.
– I would like to ask you about Jasper Iwema as well. It is possible that soon he will be racing for Poland. What is your take on that?
– I think it is quite obvious. His mother is Polish and Jasper speaks a bit Polish. If he is interested, why shouldn't we make a micro-team? Maybe we would be motivating each other. The Netherlands are not so strong right now in the matter of ice speedway. We are already past the times when Jimmy Tuinstra was achieving good results in World and European Championships. Right now there is no one strong except Iwema. Maybe it could be a good direction. I don't have anything against it, if he feels Polish and speaks our mother tongue. I am against taking anyone though, like in classic speedway, where someone declares his love for Poland, gets a passport and suddenly appears in national team.