Piia Mäkelä: First time when I saw a speedway bike, I thought – wow what a smell and sound! (interview)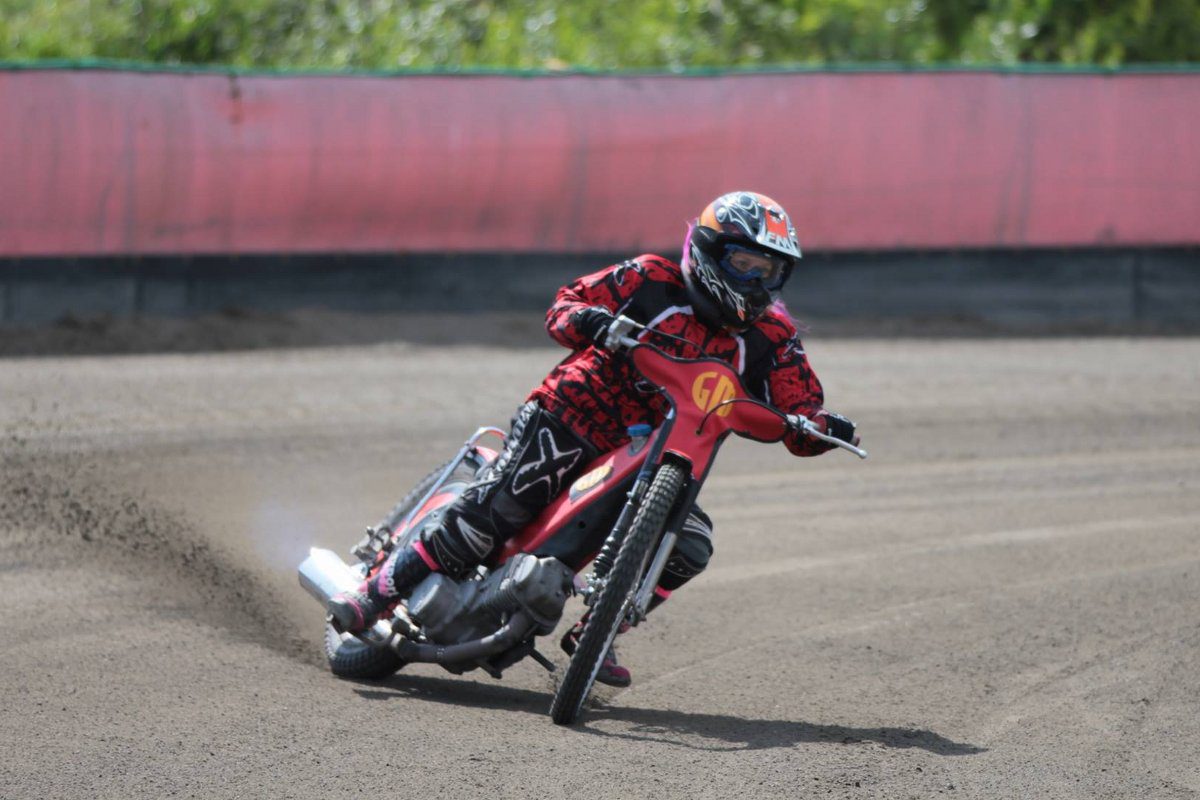 Piia Mäkelä is one of over 100 women who ride speedway. A resident of Finland Seinäjoki tells that that has some dreams related with speedway, and one of them it trip to United Kingdom on Woman Speedway Day.
Konrad Cinkowski (twojportalzuzlowy.pl): You're not a well-known rider. Before we start, please tell us something about you.
Piia Mäkelä: 39 years old women, and now I live in Seinäjoki. I'm a welder and before that, I used to work with horses as a professional. Currently horses are my hobby and sort of second work.
– Your surname is well-known in the speedway world. Are you a relative of Juha Mäkelä?
– I don't know Juha Mäkelä and I think I'm not related to any speedway stars. This irritates of me little.
– Why did you decide to try speedway?
– I must thank my ex, because I found this sport thanks to him. When I started racing I was already a little older than the other guys who were also starting. I was about 32 years old, and then I moved to Oulu, where the group Team Huru-Ukot was located. They are doing it mostly as a hobby, although some of them have competed once. They are preparing a track on ice every winter and they put screw traction on tires. I started riding that way too. During other months there's no speedway track, but passion for speedway remains.
– How did your family react to your decision?
– I think my parents are little nervous when I ride. I'm a grown up already though. They are proud of me still and encourage me to race.
– Do you remember your first meeting as a fan? If so, please tell us something about it.
– First time when I saw a speedway bike, I thought – Wow what a smell and sound! Then I started to wonder if it is just a men's sport and why didn't I hear about it sooner, when I was younger I mean. Later I tried riding for the first time, and firstly I didn't get the idea how to drive like other guys, but I decide succeed, but I was determined to succeed and next summer I was watching every Speedway Grand Prix event. Next winter my first race was so easy, and I finally got the idea how to ride and I loved it. Later I started to ride with the other riders from Team Huru-Ukot (Oulu) and they gave me some advices. I would like to thank them all for the help!
– We know that Nella Änkiläinen is currently racing in Finland. Are there any more women in your home country, who are competing?
– I know that some women are testing speedway bikes, but I don't know much about them. I even don't know their names. I think right now there are just two of us: me and Nella, but I'm not sure.
– Nella takes part in various meeting. And how about you? Do you treat speedway as fun, or would you like to compete in speedway meetings? Perhaps you have already competed and we didn't hear about it in Poland?
– It's funny, because I dream of competing. I think that I'm too old to compete though, and it's kind of expensive sport. I also don't have a team and… I'm not sure, but maybe it's already too late. Only time will tell. My bike is old Jawa 500cc, it's okay for training but maybe not too much for meetings… Still I practice every summer alone and with the team Jappi-Ukot. They visit almost every summer track in Finland and sometimes they even take it to the tracks in Sweden. I often join them, and I'm so happy that I can be a part of that team, thanks a lot!
– How are women-racers treated in Finland?
– I am treated good by the people usually. Sometimes some guys are a little confused at first, but when they get to know more and I explain to them, why I want to ride, they often say –Respect to you. Maybe a few people are jealous or something… because I just feel that I can't get along with them. I don't care though, that's my life. I do what I do and everybody else do what there can (laugh). I am a bit sarcastic and I have a good sense of humour.
– Can you count on help from your older colleagues?
– Of course. I'm listening and watching every other, older rider, younger ones too. Maybe I am doing this because I was so old when I joined this sport. I am constantly searching for the better settings and I test every alternative. I can always ask for help and people will help me.
– Do you feel less feminine when you're practising typical "men sport"?
– No, I don't feel less feminine when I practicing this 'men sport' because I don't think that it is the men sport, or maybe I'm a little bit of man (laugh). Everybody treats me like a man. They help and encourage me to drive and we talk about everything. In my current, everyday job there is about 50 to 80 men, and I'm doing my job alongside them. I'm only a woman, and it's okay for me. Really perfect for me… (laugh).
– Which speedway rider is your role model and why?
– Greg Hancock is my first role model and a big hero for me. I just like his attitude for life and speedway. He is also a good guy. He is not so tall, like me, but of course I'm proud of every driver too I like to watch every rider competing, and I like to read or listen to everything that I can find about them. That's a hard sport and you don't get trophies for nothing, but you don't get results for free.
– Speedway is not the only sport in your life. You are also competing in horse racing. Where did the idea for horse racing come from?
– I was about 4 years old, when I got to ride the horse with an older man for the first time. I remember that it was winter, and I loved it. I quickly started to want more and more rides. When I have grown up a bit, I was signed to a school where I was taking care of race horses for three years. After that I started to work with the horses for many years. My job was to put on their shoes, do massages, train them and everything else required. I moved all around the Europe. I spent some time in Sweden, Germany and even France. I still love this sport! Someday I hope to have my own house in a countryside with horses and I will race with them on my bike. Horses and speedway bikes have a lot in common. They both have a lot of power and sometimes… they do not…break. I have a nice proverb; "Life is too short to drive too slowly".
– Is there anything that we didn't talk about but is important to you?
– When I was younger, I spent some time as a co-driver in a rally. It is a very cool sport but so very expensive. I hope that I can do it again someday. I love motorsport generally. Off-road is a lovely sport, and I have some experience in it too. I also hope to go to the Ladies Training day in England. Every summer there is a meeting that is run by Iwade speedway club, it's my main objective now to get there. I received an invitation from them already, for which I am thankful. Covid pandemic made in unfortunately impossible to attend. Someday when the Covid is over, I want to watch Speedway Grand Prix round in Warsaw live, in person. Pole dancing is another of my hobbies. I have my own pole in home and I also jog daily. I think that I am interested in many things. Every day brings something new.
RECOMMEND