Aki Ala-Riihimäki: My wife Nina has also been riding ice speedway (interview)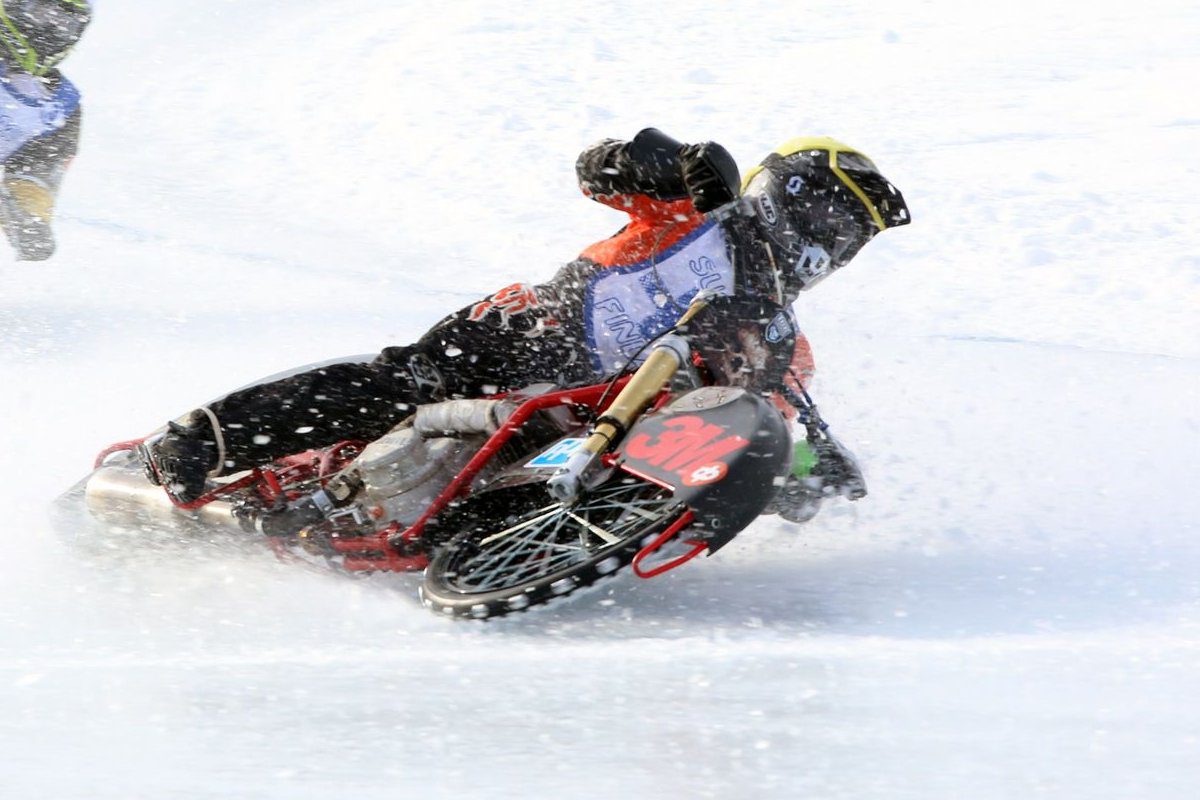 Aki Ala-Riihimäki was one of the pleasant surprises of the European Ice Speedway Championships Final. The Finnish rider may only regret his final run when he fell, while being in the lead and ahead of Franz Zorn.
Konrad Cinkowski (Twój Portal Żużlowy): Let me start with a question about your health. How are you?
Aki Ala-Riihimäki: I'm doing fine, I only feel a little pain after the race but all is ok.
– In Tomaszów Mazowiecki you had a few falls – during training and also during the meeting. What, in your opinion, did this result from?
– I fell during the practise because my tire was broken, all other crashes were partly caused by springing of my bike.
– Do you feel unsatisfied with your result? You took tenth place, but if it hadn't been for these two falls, it might have been a bit higher position…
– Yes, I would like to be on higher position. Without falling during the race I could have done better.
– This competition promoter was organizing the ice speedway tournament for the first time in history. How was your impression regarding this event and did you have any issues about the organization?
– In bigger picture the organisation did well. In the pits it was pretty narrow to walk around. Inspection was totally different than ever before. Regarding cleaning of the track, they should have moved the free ice from the outtrack over to the inner track. All these issues give few negative marks.
– How about ice track condition?
– Ice was pretty ok.
– In March we will have another tournament for the European Championship, again in Tomaszów Mazowiecki. Do you already know if the Finnish federation will appoint you to this competition?
– I don't know yet.
– What are your plans for the next weeks then?
– Propably the access to GP series, Finnish and Nordic championships, and other races as invited rider.
– This year you have returned to racing after a few years off. Why?
– Because of the injury that happened in year 2007 I had to stay away from the tracks. Now when everything is fine, I wanted to make comeback.
– Can you say how did it start? I mean, how did you get interested in speedway and when did you make a decision to try it?
– I started ice speedway when I was 17 but I don't know how did I get so enthusiastic about this sport.
– Many years ago you raced in classic speedway, Long Track and Grass Track…
– I was racing speedway for over 10 years, grass- and longtrack a bit less.
– Which of all these successes do you consider the most valuable?
– In 1992 my third competition was in Inzell. It was a qualification for World Championships. I was 3rd over there and it felt really good. At that point I am also satisified with my championships in Nordic and Finnish competitions.
– How can you rate your career now from the time perspective?
– Well, I have a long carrer and it still continues. The biggest achievements are still in front of me.
– Weren't your children interested in becoming a speedway riders or ice speedway gladiators?
– One of my kids, Jenna, had been trying to ride both speedway and ice speedway, but until now she hasn't tried to compete in tourneaments.
– Is there anything that we didn't talk about but is important to you?
– I've managed to win three World championship medals with team, seven Nordic championship medals and 18 Finnish championship medals. In 1991 during the grasstrack competition I broke my leg and racing was over for me for some time. My wife Nina has also been riding ice speedway before we met and now my whole family is very excited about my return on track.