Kelsey Dugard: If I had even half of all his successes in my career… (interview)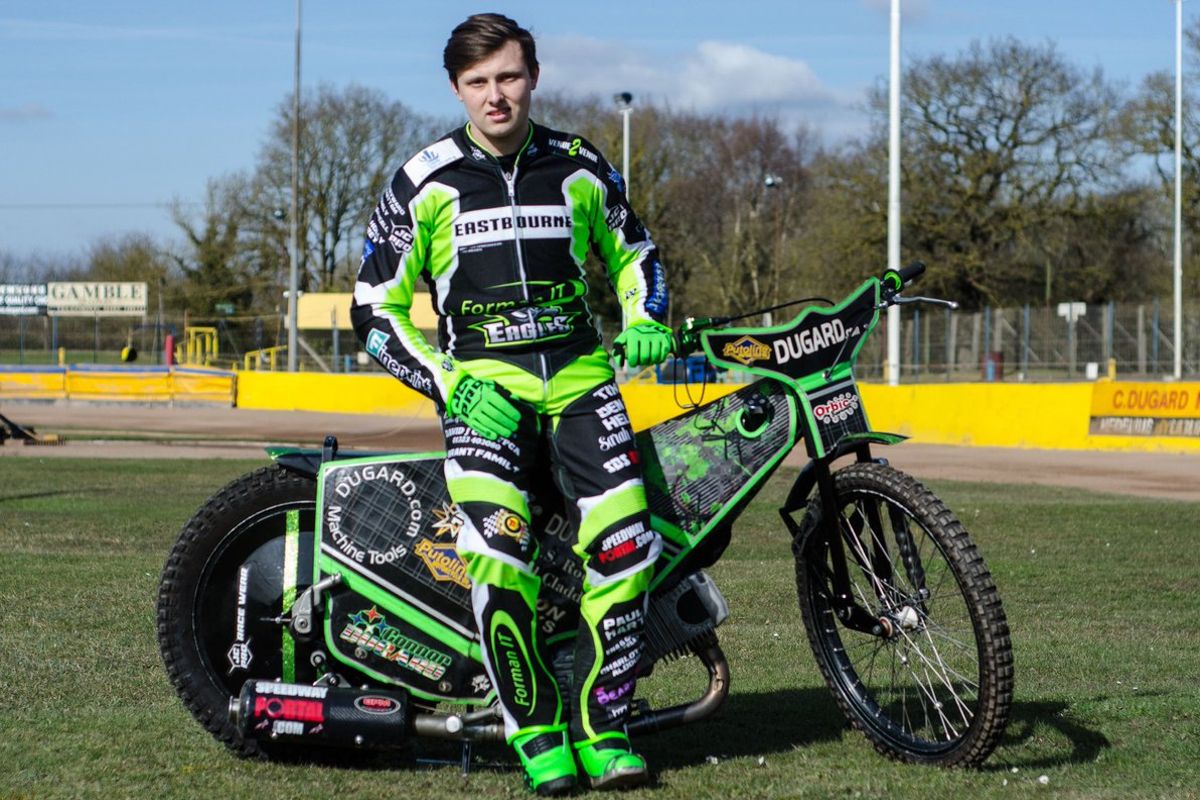 Kelsey Dugard has followed in the footsteps of his father Martin and is also racing in speedway. In an interview with twojportalzuzlowy.pl he talks about himself.
Konrad Cinkowski (Twój Portal Żużlowy): You're not a well known rider. Before we start, please say something about yourself.
Kelsey Dugard: I'm 22 years old and trying to make it in speedway at some sort of professional level.
– Your father was a speedway rider. Was it obvious that Kelsey would be the next Dugard in speedway world?
– I mean me and my brother raced quit early. He was a very good starter but he had a few crashes and that was it for him.
– How important for you is support of your father? Both as a parent and as a former rider?
– My dad has always helped me financially. If I was desperate for support, he would always bail me out. In terms of teaching me how to ride and working together… it didn't turn out very good and I've always relied on other people at the track. In that aspect he had his priorities elsewhere.
– What have you been up to during last year when there was no speedway in Great Britain?
– I worked. A lot of riders in the United Kingdom had to get full time jobs. I was also getting fit, because after I took a mechanic job for Lasse Bjerre in 2019 I had put on a lot of weight. Now I am back to an okay weight again.
– Can such a year without any matches discourage from participating?
– Yeah 100%. If you look at the riders now, they all have Monday to Friday jobs, earning consistent money and they do not risk getting injured. I think it could seriously affect British speedway.
– Will you be back on track this year?
– If the season in the United Kingdom goes ahead in 2020 I will be back on track. I had the time out to realise that it is what I want to do.
– If the season launches, do you have any goals for this year?
– Yeah to actually knuckle down and put an effort in with my racing. It is hard as I can go out and beat top riders, but then I lose to poor riders so I need to remain focused from heat 1 to heat 15 at every meeting.
– Do you feel up to that you are good enough to get into the polish speedway league?
– No.
– Have you ever had offers from Poland?
– No.
– Your dad did achieve much in speedway. He raced in the Speedway Grand Prix and the Speedway World Cup. Do you sometimes wish you could have achieved similar successes?
– Yes and no. I mean a lot has changed from his day to today's world. Bikes are totally different, riders behave differently as well. You can't really compare something that happened 30 years ago to today. If I had even half of all his successes in my career, I feel I would have done okay though.
– Usually fans compare a son to his father or siblings.
– Yeah I get compared everywhere I go.
– Did it create additional pressure?
– Yeah so it is always hard when your dad had quite a big career. It has been quite challenging for me as I have always been in strong winning teams. It was much harder to shine in them. I always seem to be doing very good in getting a high average, but then bang, I crash and my confidence goes down again.
– What is your father doing now?
– I don't really know. I think he just finds stuff to do wherever he can.
RECOMMENDED