Ricards Ansviesulis: I believe that I have to race as much as possible to become better (interview)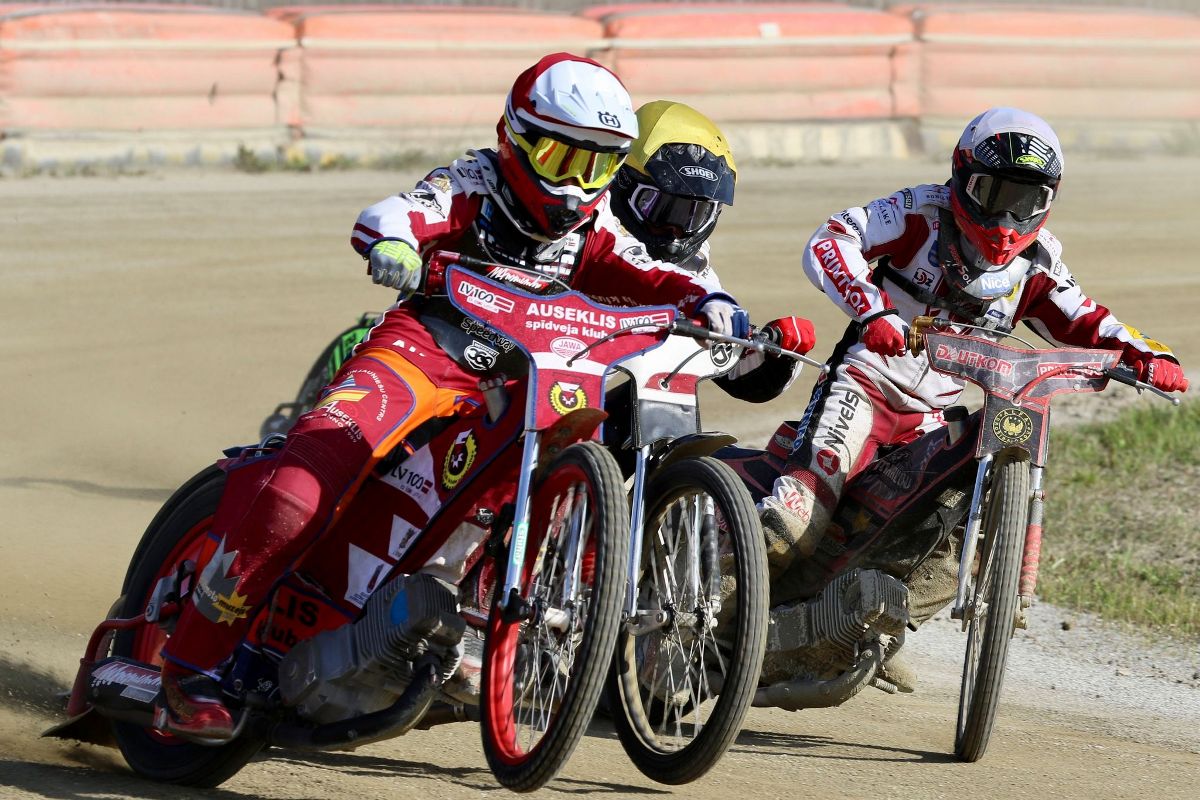 There are currently two speedway centers in Latvia – Daugavpils and Riga. One of the riders from the second venue is Ricards Ansviesulis, who talked with us about his beginnings in speedway, his last and his next season.
Konrad Cinkowski (Twój Portal Żużlowy): Can you say how did it start? I mean, how did you get interested in speedway and when did you make the decision to try it.
Ricards Ansviesulis: Before speedway, I was already riding and taking part in local enduro races, so motorcycles were nothing new to me. I tried riding speedway because there was a speedway school that has opened in Rīga (Biķernieku track) and my mom found out on the internet that pretty much anyone who wanted to try it out, could come and try. So a week or so later I happened to be on the speedway bike for the first time in my life. I liked it and I kept on doing it. And the rest is pretty much a standard story. I just kept riding and riding and… here I am.
– How did your familly react for your decision that you want to ride speedway?
– My family was I think a bit curious at the start, but as the years and seasons went on, they are starting to understand the sport and life of speedway rider more and more. So yeah…they are really supportive.
– It was tough to convince your parents?
– I wouldn't say it was tough to convince my parents. I believe I just had to really get into doing it and I have started training hard during the season, in the offseason. I had to start riding better and it just so happened that everyone around understood that this is what I'm going to be doing.
– Do you remember your first meeting as a fan?
– I remember my first meeting as a fan pretty well. I wasn't necessarily a fan but I was still cheering on my guys. I don't remember what meeting it was, but it happened in Riga. As I had already started riding at the Riga speedway school I had a chance to open the gate on the track to let riders on and off the track. That was my first time so close to any kind of speedway race.
– What can you say about the 2020 season?
– Well.. 2020 wasn't easy. We started the season as planned, went to one week training camp in Krško and Goričan. Then the whole COVID-19 thing came up and put a month-long break on any speedway. Then the start off the real season came up but it didn't fell as good as I had expected myself. But I just kept on pushing and during the last three months of the season I felt really really good and confident on the bike. And I believe you can see some of that in my results. So yeah.. I progressed a lot and I think that's the most important thing to do – keep getting better.
– You did very well in Zarnovica during the European U19 Individual Speedway Championship. If it weren't for the exclusion in one of the races, you probably would have had a bronze medal.
– The U19 race was a pretty tough one. It was raining cats and dogs before the race. That made the track difficult both physically and technically. It was also really hard for me to get mentally into it. But then the race started and I just simply had to do it. I tried my best, as always. About the result…if anyone would have told me in the morning that I'll get 6th place I would be really happy, but after the tourneament itself, 6th place felt pretty disappointing. I believe the exclusion from one of the heats wasn't the right decision from the judge. I believe we had to ride the restart of that heat with all riders, as it wasn't quite anyone's fault. We just had no free room to go in to the line that we both wanted to take, and it was a first corner crash. But it is what it is, I learned my lesson and moved on.
– Last year you took part in competitions in eight countries (Latvia, Poland, Czech Republic, Denmark, Germany, Finland, Slovakia, Italy). Is it true that you are the kind of rider who doesn't decline invitations and you race everywhere you can?
– About races all over the map. I believe that I have to race as much as possible to become better, gain experience and work on my riding, there is no better training than riding the bike as often as possible and there is no better place to practice, than a race.
– Do you intend to race in so many countries once more this season?
– I most definitely won't say no to an opportunity to race. I hope I can race as much races as it's even possible. But I have to say that driving in the van gets pretty boring after some time, especially closer to the end of the season. I hope I can get races as close from home as possible, but if I have to make the travel I'll do what it takes to get to the meeting.
– You race regularly in Poland and Latvia. In which of these countries do you prefer to race?
– I can't quite say that I feel better in one or the other country. I really like going to a lot of different tracks to gain the most experience I can possibly get. When I feel good and confident, I feel like I can ride anywhere.
– Do you have your favorite tracks?
– I really like racing in Grudziądz. It definitely isn't my kind of track but for some reason I really like riding there. I also do enjoy riding in big, wide, long tracks such as Pardubice, Žarnovica, Ostrów and Terenzano. Since last year's U19 European pair championship in Güstrow I really like the german track as well.
– How do you see Lokomotiv's chances in 2021 season in second polish league?
– I really don't know who is the favourite in the 2nd league. I believe everyone who gets out on the track has the same chance of winning. I don't want to make any predictions about Lokomotiv in 2021 season. If I get to race I will just simply do my best and race every lap to the last meters.
– How do you rate your chances in the fight for the squad?
– I don't rate my chances. I just do the work for now and then we will see. The season is long and anything can happen. I'm just doing my best and I hope I get to race the big boys.
– As I study your performances, it's clear that you have a huge potential but sometimes you have a bit of trouble in showing off your skills. Could you name a reason of that?
– There are two reasons behind that. As any person I also have some off-days when mentally I'm just not ready to race at full potential. But the biggest problem for me is that I am to heavy for speedway bike, I have to loose quite a big amount of kilograms. For now I'm seriously working on that and so far I am making good progress. So yeah, I'm working hard on my weaknesses and I'll be more ready than ever.
RECOMMENDED