Lars Zandvliet: If some club would call me I would go for 100%! (interview)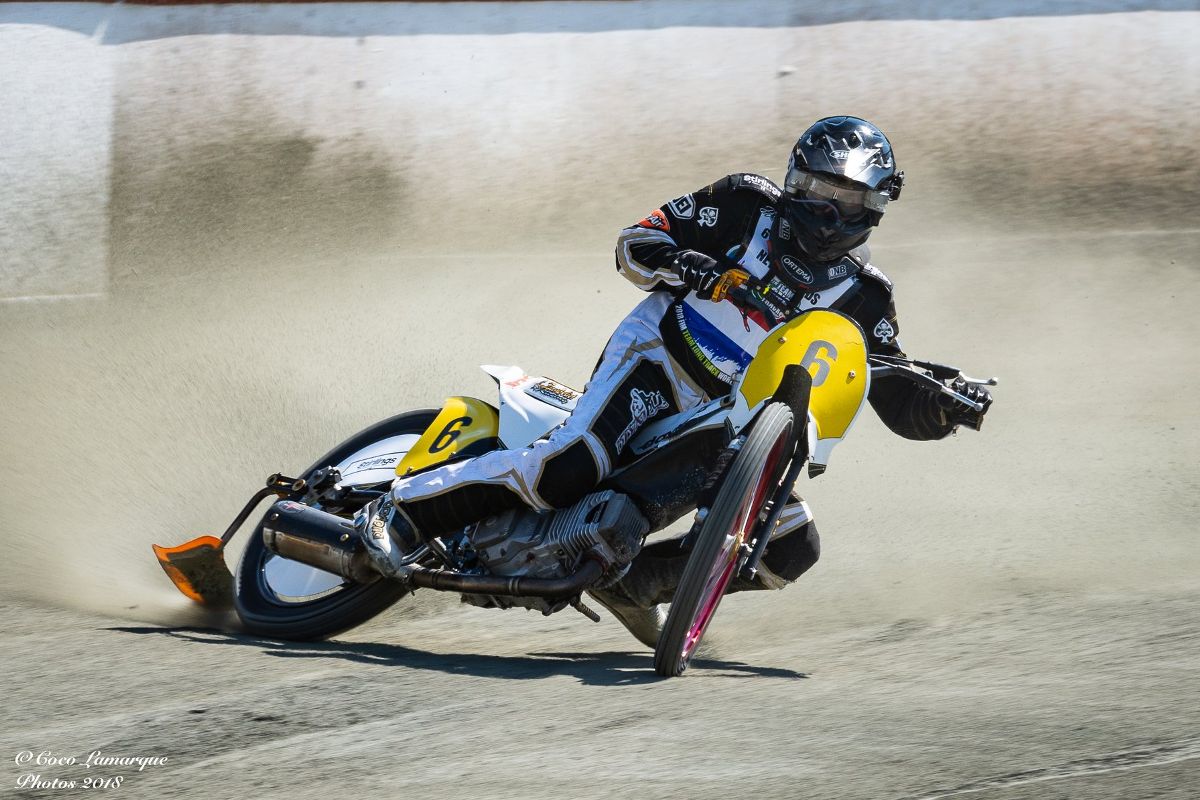 Lars Zandvliet is one of the few Dutch riders that is still racing in classic speedway. In an interview with our portal, the 30-year-old talks about the beginning of his career, current results and the future of Dutch speedway.
Konrad Cinkowski (Twój Portal Żużlowy): How did you become interested in speedway, and why did you decide to try this sport?
Lars Zandvliet: I actually wasn't really interested in speedway at a younger age. I was driving my motocross bike and I really didn't like the look off a speedway bike. However, at the age of 15 I came in contact with a rider which was at that moment one of the best riders with a lot of talent in the Netherlands. I then went with him to a certain amount of races as a mechanic and after only a few meetings I really started to like the whole speedway and longtrack scene. So then we decided to buy a speedway bike on which I could start practicing on. Funny fact is that this rider René van Weele (one of my best friends) retired in 2007. He wasn't motivated any more at that point, and after he came back from a Grand Prix in France he stored his bikes in the workshop and sold nearly everything. In 2019, I asked him to come with me to a track, and first he thought he was coming with me as a mechanic, but I convinced him to try it again. After a few laps we could easily see that he didn't forget how to ride the bike and we made the plan for his comeback in 2020 with the help of my team and company. However, during 2020 it was a really hard year with the Covid-19, so we have done only some practices.
– Has anyone in your family ever ridden speedway?
– No, none off my family was involved in any type of racing. My dad however went during his younger years to the World Championship Speedway Final in the Olympic Stadium in Amsterdam.
– Do you remember your first meeting as a rider? If so, please tell us something about it.
– Yeah, I do remember. It was in Moorwinkelsdamm, Germany where they held a Dutch Open round. I actually made really good starts during that day and I was leading in some heats or I came second. Back in that time we were racing in the heats with six riders. However I also crashed nearly every heat (laughter).
– For you, speedway is now a job or more of a hobby?
– Yes and no, we can say that speedway as a rider is an expanded hobby. However, I am involved a lot in the speedway and longtrack scene. I am running my own speedway shop (L. Zandvliet Racing Parts), and I have my own company for selling race vans which are built by AB Race Cruisers (Leszno/Włoszakowice). After being just a customer with AB Race Cruisers we developed together the business in The Netherlands and Belgium and I am really happy with this cooperation. I really think they make the best conversion and therefore I started out this extra business with them.
– What can you say about the last season?
– It's easy to say it was terrible. All races got cancelled for us and actually the last time I rode my longtrack bikes was during the Team World Championship in Vechta 2019. I was a reserve rider for the team and had one ride where we scored maximum points with the team Netherlands.
– In the national final in classic speedway you finished on the worst place for a sportsman – you were 4th. Of course, it's still a success, but from the other side, medal was so close.
– In the national final in classic actually think I now have finished 4th about 4 or 5 times. It's simple was it is. If I had done better we would have a medal. In my opinion being 2nd and 3rd is still not good enough. In the end only the number 1 will get in the books and people will remember that rider. This is the same in every sport as most people won't remember who was a silver or bronze medallist five years ago, for example in the Speedway Grand Prix.
– It's a bit sad that only seven riders started in the most important meeting in the previous season…
– Yeah this is really sad, but I can also understand why. I mean we have no option for practice in our own country any more. We must pay for the licence which costs about 2000 PLN and if you only have one or two races is it worth it? Most of the boys and girls then decide to switch over to longtrack or retire completely. Classic speedway is just not so popular in the Netherlands and that is just a big shame as it is such an awesome sport.
– What do you think about the recent condition of speedway in your country?
– I keep it nice in one word: Bad!
– Do you think that it's going to get better in the future?
– I really don't know I just really hope it will. One off the reasons behind starting my speedway shop, was to at least help the riders who are left without parts close to their homes. There is still a Jawa dealer based in the Netherlands however this man is doing it already for such a long time and is at a certain age which means that if he will be gone, there will be no one left.
– How many tracks do you have now and in which cities?
– I think the only track where we really ride meetings is Veenoord. However, the plan is to remove this track and build a new track/stadium at the other side of the street. I really hope this will be happening as then I see a little sunshine through the clouds. Besides that there is Blijham, however they now only ride with cars over there, Lelystad which is now only been used for Flat track, and we have Vledderveen, which is five kilometres from me. This track is still open for practice, but the condition off the track is just really bad. There is a new president in that club with all new club members and I heard they are working hard to make this track better again. Me and other people really hope that is going to be the case as that means it will be a lot easier to go for practice close to our home.
– You are not racing in any professional league. Did you receive any offers?
– I don't, however we plan to ride some meetings in Denmark this year, only in second division though. This doesn't really mean a professional league where we earn real money. Many of us dream about it but with the lack of opportunities to ride in the Netherlands but also abroad it is hard. I tried already many times to go for a week of practice in Poland as tracks there are just amazing. We have all the equipment standing ready, we just don't have opportunities to use it.
– Have you ever received an offer from Poland? If so, can you tell us more and tell me from where?
– No, unfortunately not. If some club would call me I would go for 100% even if they only asked me to come for one or two weeks practice and later decide if there is any chance to ride in one of the leagues. The atmosphere in Poland is amazing, the stadiums, all the fans everything… Me and my team always talk about the Mecca of speedway and it is Poland.
– How do you do recall your adventure in Częstochowa, where you have raced in ice speedway meeting organized by "Slammer" Drabik?
– Oh my god, I try to forget it (laughter). I thought it was going to be totally different than how it went. I did change the bike so much that I nearly couldn't ride it. I came down two or three times but still it was fun. It is always a pleasure to come to Poland and I always do it a few times a year even if it is just for watching the Grand Prix in Toruń for example. When I am in Poland I always visit like the AB Race Cruisers workshop and also one off my sponsors Auto Frelik in Toruń.
– What are your goals in this season?
– The first goal is to try and stay healthy of course, but with some distance I think we can still do our sport and enjoy it. I hope there will be some meetings in speedway and longtrack also for us during the year as that is something I and my team really miss. You spend a lot of time with preparation so we just hope the situation get better soon.
– Is there anything that we didn't talk about but is important to you?
– We talked already about a lot. But I would like to wish everyone a good health and I hope to see all riders enjoy the sport again and of course I am looking forward to welcoming some more riders in my shop L. Zandvliet Racing Parts. For the rest I am making plans for setting up a longtrack team. However, this isn't the most important thing right now though, as… there are no meetings going on so far. But it is some of the ideas that I have right now and it would be awesome to see for example some good Polish riders taking on this opportunity.
RECOMMEND