Villads Pedersen: I traded my pacifier for the bike (interview)
Denmark has been famous for many years for its excellent training on the level of mini speedway. Recently, a lot has been written about the successes of Mikkel Andersen, and a few equally talented boys are trained under the supervision of Erik Gundersen. Among them is Villads Pedersen.
Konrad Cinkowski (twojportalzuzlowy.pl): You're not a well-known rider. Before we start, please tell us something about you.
Villads Pedersen: I am 11 years old (born 9th of April 2010), live in Denmark with my parents: mother Sanne, father Thomas and sister Karoline.
– You have a well-known name in the speedway world. You are a relative of Nicki and Ronni or Bjarne?
– As far as I know I am not related to Nicki, Ronni or Bjarne, but my father grew up together with Nicki and Ronni, but I think that it is the closest that it gets.
– How did everything begin to you? How did you fell in love with speedway?
– When I was 4 years old my father bought my a Yamaha PW50 I traded my pacifier for the bike, wanted to do motorbiking. My father took me to a nearby speedway track and I know instantly that I wanted to ride speedway bikes.
– How did your family react to your decision? Was it tough to convince your parents?
– Not at all, both my father and mother was excited that I took up the challenge to do it.
– A few days ago you visited Poland, more specifically Gdańsk, where you took part in the camp and mini speedway competitions. Share your impressions of this stay.
– It was my first race aboard, it was mega cool to participate in the camp and the races, Krystian Plech did a fantastic job arranging the camp and races. I really hope that I get the chance to come back next year. I was also cool to see how speedway is done in Poland compared to Denmark.
– You also took part in the ORLEN Golden Boy Trophy tournament, where you scored 12 points and finished fifth place. Please tell me something about your performance.
– I did the best I could, I a had a tough starting position from gate "D" (yellow helmet), I think I could have done better, but sometimes you do not have the best of luck.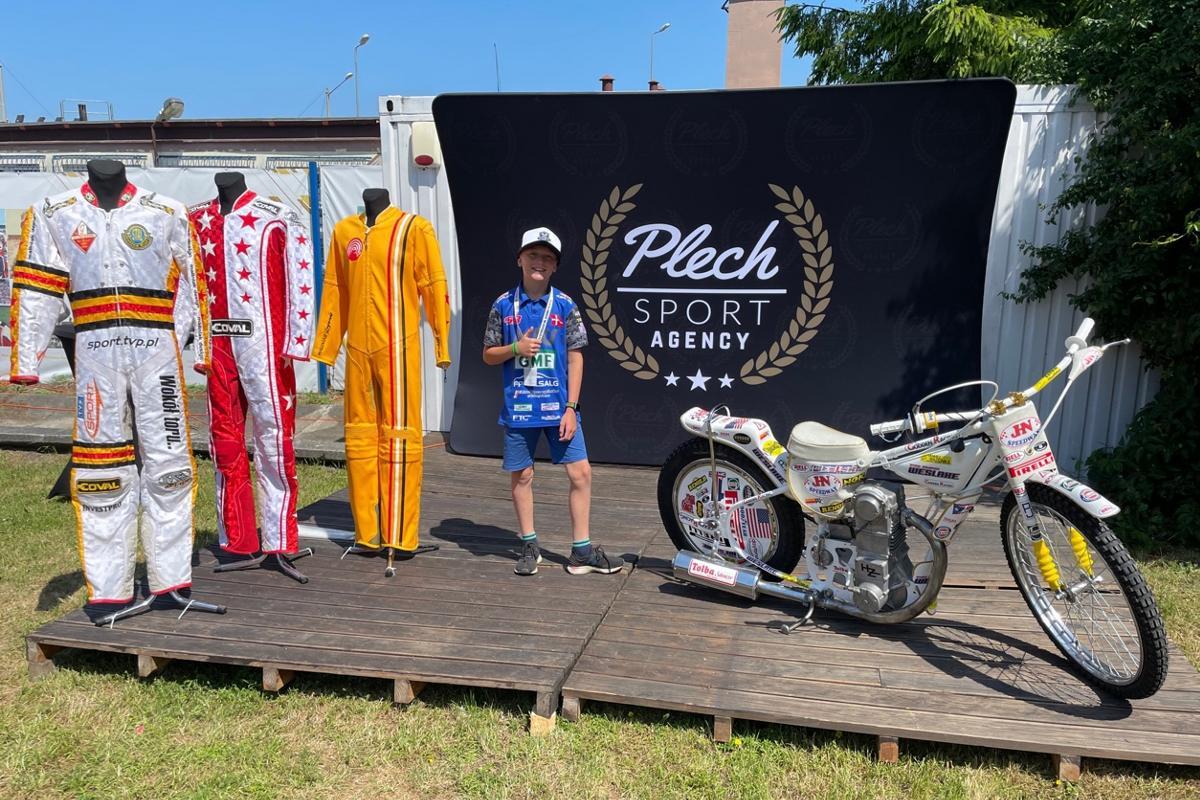 – You rarely have the opportunity to meet the stars of the world's speedway in one place. How does it feel to listen to advice and race while being watched by Tai Woffinden or Tony Rickardsson?
– It is super cool it would be fantastic to be able to do that again.
– Have you had the opportunity to visit the city? If so, how do you like Gdańsk?
– This was my first time in Poland, Gdańsk is a lovely city I would like to come back. We were most of the time in the city centre, visiting the old city that was really nice.
– Have you had the opportunity to visit any other Polish city? For example, for sightseeing or training?
– Unfortunately, not I have only been in Gdańsk.
– The World Championships and the European mini-speedway championships are ahead of us. What are your hopes of competing in this meeting?
– In regard of the World Championship, I qualified in the national race, but due to that I am only 11 years old I am not allowed to participate because you have to be 12 years old to participate in the World Championship. I have qualified for the European mini-speedway championship, and I am the youngest rider from Denmark to participate in the race. I am looking forward for the race and I will do my absolute best.
– You are one of the most gifted young rider in Denmark. Many people believe in your skills. Do you feel any pressure about it?
– It is sometimes hard to be younger than all of your competitors and I sometimes put to much pressure on myself, but we are working on improving that as well as all other parameters.
– Which speedway rider is your role model and why?
– Nicki Pedersen is my favourite rider, I have been so lucky that he has shown me how to make fast start, and given my racing tips. He is just a cool guy.
– What about sponsors? Do you have any or are you just paying for everything by yourself?
– We have been so lucky to find sponsors in Denmark, it is hard when you are a young driver, but my mother and father also help.
– Is there anything that we didn't talk about but is important to you?
– I think speedway have to be fun, you make friend even though we are competitors, speedway is a family sport, and I am glad to be a part of it.
RECOMMEND