Anže Grmek: Unfortunately, speedway in Slovenia is in decline a bit. It is struggling for survival… (interview)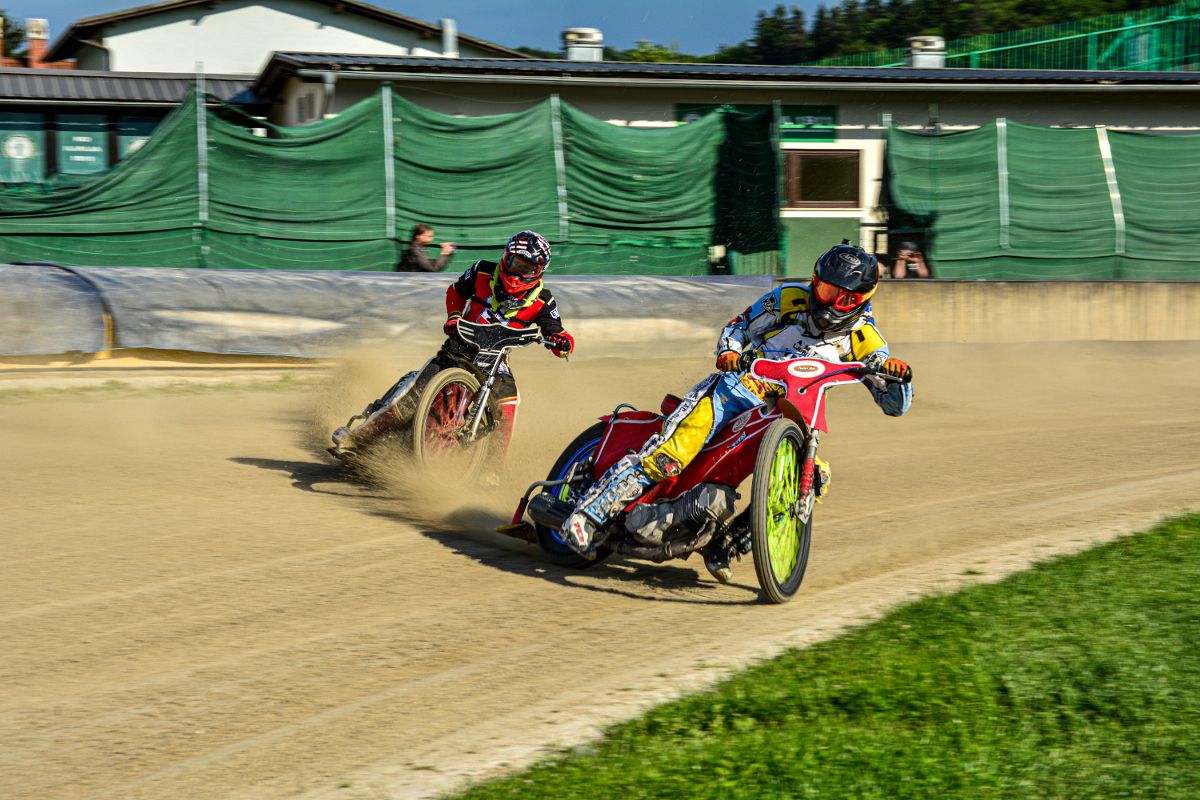 The Slovenian speedway is currently associated with Matej Žagar. Young Anže Grmek is following in the footsteps of the participant of the FIM Speedway Grand Prix series. He has already shown some good performances, and in Slovenia they believe that he can be their hope for the future.
Konrad Cinkowski: You're not a well known rider in Poland. Before we start, tell us something about you.
– My name is Anže Grmek, I am 16 years old and I come from Slovenia, from a little village called Iška vas. I attend high school for economics, second year. Speedway has become my life and my passion.
– How did everything begin? I mean, how did you fell in love with speedway? Furthermore, do you remember first competition which you have watched live?
– I first sat on a motorcycle when I was four years old. It was a 50cc minimoto motorcycle that completely took me by surprise. I started training motocross at the age of nine, and I also followed other motorcycle sports the whole time. My father and I went to see speedway races a few times, which I didn't find attractive at first. They all drove only in a circle, but after a while it became interesting to me. So I decided to give it a try. At first, I rode around the cones in smaller circles on an 85cc motocross motorcycle which is not appropriate for this kind of ride. I first tested a speedway motorcycle three years ago. This one had a 125cc engine and it was already much easier to drive and make turns with it, although it was also around the cones at the beginning. Eventually, I got so used to it that I got a chance to ride a 500cc motorcycle. When I first rode it, coach Franc Kalin gave me instructions on how to behave on a motorcycle. I admit I was a little nervous at the time. But when I drove the first lap, I knew this is what I want to do. I became completely addicted to Speedway.
– In last years' Slovenian Individual Championship you have finished on 5th place. You won a bronze medal because foreigners are not included in the final standings. I think we can agree that it is a big success!
– Yes it is a great success for me, because that is how we know we are on the right track. But of course it will take a lot of effort, will and also resources to become even better.
– What can you say about 2020 season?
– The 2020 season was good, but there weren't many races due to the coronavirus. But the problem was also with my age, because I only turned 16 this October and unfortunately I could not participate in international races. I competed only on two international races in Slovakia (Žarnovica): first was Friendship Cup, where we took 2nd place for Slovenia and second was the Youth National Championship of the Czech Republic and Slovakia, where I achieved an excellent fourth place.
– What about sponsors? Do you have any or are you just paying for everything by yourself?
– There are a few sponsors and I am more than grateful for each one, but the costs are very high and we all have to pay more or less by ourselves. I hope to convince more sponsors with my successes as well.
– You are one of the most gifted young rider in Slovenia. Many people believe in your skills. Do you feel any pressure about it?
– Maybe a little, but when I'm on the track I forget about everything and just enjoy the ride. I also have high expectations for myself.
– Can you count on the help of your older colleagues – Matic Ivačič, Matej Žagar?
– I definitely hope for some help, as any advice is very welcome, especially from such good riders. Of course, everything depends on them and, above all, on their schedules.
– What do you think about the recent condition of speedway in your country and do you think that it's going to be better in the future?
– Unfortunately, speedway in Slovenia is in decline a bit. It is struggling for survival, but all active participants are trying to make the speedway come to life again as it used to be. They do all this to make the stadiums full of fans again and the tracks full of new, young speedway talents.
– How many tracks do you have now and in which cities?
– I did most of my training on my home track at the Ilirija stadium in Ljubljana, which was unfortunately closed recently. Now I do most of my training at the Matija Gubec Stadium in Krško, which is further away from my home. I also train at the Milenium Donji Kraljevec stadium in Croatia and at the stadium in Petišovci, Lendava.
– What club do you represent in the country and what can you say about it?
– I am a member of the Auto Moto touring club Ljubljana (AMTK Ljubljana).
– Do you feel that you are good enough to get into the polish speedway league?
– I think I need to ride quite a few more races and gain more experience as this is just the beginning of my career. However, I definitely want to ride in the Polish league in the future.
– Is there anything that we didn't talk about but is important to you?
– I am very honored that you asked me for an interview. For someone my age and in such an early stage of career, this is very important for the future. I would like to take this opportunity to thank those who believe in me and selflessly helped me along the way, especially my small, but important team: my father Grega, my coach Franci, my mechanic Jan and to all my family for support.
RECOMMEND